Allot NFV
Allot removes the barriers to virtualized service deployment
Network Functions Virtualization (NFV) represents a dramatic shift as diverse networking functions migrate to virtualized or cloud-based architectures. One of the most important outcomes expected from NFV is the ability to quickly introduce new network services and modify already-deployed services, in response to changing market conditions. Service integration is one of the key challenges network operators must overcome to reap the benefits of NFV.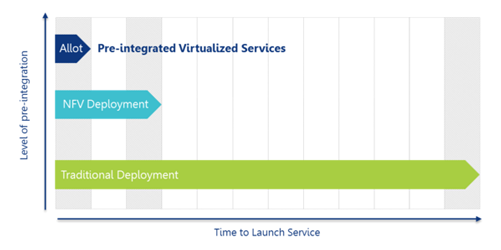 Pre-integrated Allot VNFs enable new services to hit the ground running
Allot's pre-integrated approach to virtualized services is designed to overcome challenges and provide a complete Virtual Network Function (VNF) for rapid service delivery. Allot VNFs for virtualized Parental Control, Anti-Malware, URL Filtering, DDoS Mitigation, Traffic Management, and more are engineered with a wealth of capabilities built-in and pre-integrated, including interfaces to NFV infrastructure, management and orchestration, so all you have to do is deploy an instance of the pre-integrated VNF and you're up and running with that service. The result is:
Simple and more flexible service deployment
Minimized or even eliminated integration headaches
Faster time to-revenue for virtualized services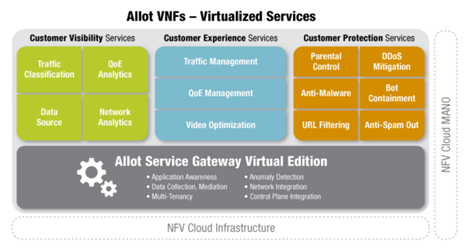 Allot VNFs and virtualized service framework
We have engineered Allot solutions and technologies to operate seamlessly in virtualized network environments, starting with our flagship product – Allot Service Gateway. In traditional networks, Allot Service Gateway comprises an inline platform for the integration and deployment of data network services – ranging from visibility, control and security to customer engagement and monetization. Allot Service Gateway Virtual Edition (SG-VE) plays the same role in the virtualized network, providing a virtual framework for seamless deployment, integration and interoperability of virtualized data network services. We call these pre-integrated services "Allot VNFs."
Partnering with NFV leaders
As a participant in the HP OpenNFV Partner Program, Allot offers a complete service virtualization framework and a broad portfolio of pre-integrated VNFs that run seamlessly on the HP OpenNFV platform. To date, Allot and HP have verified interoperability with Allot Security VNFs, and there is much more to come. Allot is also a member of the Intel® Network Builders program, which is a development ecosystem focused on accelerating the adoption of Network Functions Virtualization and SDN-based solutions in Telco networks.