Allot Web Security

Web Application Security for the Enterprise
Allot Web Security solutions designed especially for today's enterprises whose applications are migrating to the cloud where they are accessed by increasingly mobile employees, guests, and customers. Through full integration with Allot Service Gateway, you can rapidly roll out a multi-tenant web security solution, including web (URL) filtering, anti-malware, application control, and mail security that work together to make your business environment safer and more productive. Allot Web Security services are network-based, so they have no impact on device performance or battery life. Moreover, you enjoy uniform setup options for all devices/endpoints and hassle-free maintenance.
Web Filtering
The right Acceptable Use Policy (AUP) is a formidable tool in your enterprise security arsenal – especially as your business relies more on cloud-based applications and user mobility. Allot Web Filtering makes it easy and economical to assure safe-browsing and productive use of the Internet, and to prevent employee exposure to illegal or inappropriate content in the workplace. Native multi-tenancy and application control lets you define and enforce an Acceptable Use Policy that is tuned to the needs of employees, guests, and customers; the needs of different departments and branch offices; and regulatory requirements. Allot's real-time classification and filtering of Web content per your AUP enables your organization create a secure and productive work environment for everyone.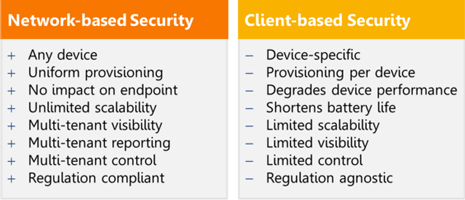 Anti-Malware
Allot anti-malware protects Internet users from being exposed to viruses, worms, Trojans, adware, etc. and becoming unwitting vehicles for bringing these malware threats into your enterprise where they can wreak havoc and spread. Your employees and guests are exposed to malware and phishing via risky websites, cloud applications, social networks, and other places they go on the Internet. Allot helps you detect malware-infected content and block it in real-time – before it damages your business.
Application Visibility and Control
Allot's native application awareness and application control allow you to protect your enterprise network against a growing number of threats that other security measures do not address – especially transactions and communications beyond your network security perimeter. Innocent use of social networks, file-sharing, online storage, and instant messaging apps often create a "backdoor" for crafty cyber-criminals to enter your network and to compromise data privacy and integrity. Allot also helps you detect "anonymizer" applications which are designed to hide the user's identity and traffic content and by their very nature constitute a security threat. With Allot, you gain granular visibility and valuable intelligence regarding application usage and security events on your network, as well as the ability to control them with the same level of granularity.
Web Security at Scale
Full integration in Allot Service Gateway and Allot NetEnforcer platforms drives efficiencies with on-premise, cloud, or hybrid deployment, which reduces TCO and accelerates ROI. Allot unified platforms scale seamlessly to support any number of users with high-performance Web Application Security.