Allot Web Security

Internet Security Services for Everyone!
Allot Web Security solutions empower your data network to offer Security as a Service (SECaas) to consumers, SMBs and enterprises – in short – to everyone. Through full integration with Allot Service Gateway, you can rapidly roll out network-based managed security services, including, anti-malware, and parental controls that increase customer loyalty and generate incremental revenue. For your SMB and enterprise customers, Allot Web Security solutions include web filtering as well as critical application control and mail security services that allow companies large and small to trust their applications and IT operations to the cloud, making their business more efficient and productive. Allot Web Security services are network-based, so they have no impact on device performance or battery life. Moreover, your customers enjoy uniform setup options for all devices and hassle-free maintenance.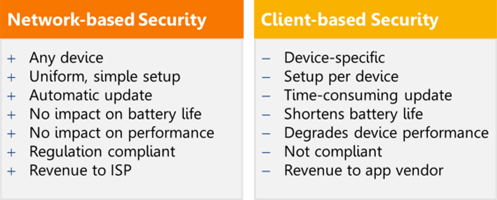 Anti-Malware
Viruses, spam, spyware, phishing, and Trojans are among the many malware threats that Internet users face every day. Allot anti-malware protects Internet users against all kinds of malware that can damage mobile devices and cause the loss of personal content and business data alike. The service includes powerful anti-virus and anti-phishing that take the worry out of engaging in online activity and transactions.
Parental Controls
Allot enables network operators to provide peace of mind to parents who are concerned about the online activities of their children and want to protect them from harmful and inappropriate content. Allot parental controls make it easy and economical to assure child-safe browsing by determining the websites and content that their children can access, as well as the hours and amount of time they spend online.
Security as a Service for SMBs and Enterprises
Allot offers Web Security solutions designed especially for SMB network security and enterprises network security needs, so you can differentiate your offering to this growing SECaaS market. Native multi-tenancy and application control allow each SMB and each enterprise to define and enforce their own Acceptable Use Policy (AUP), regulating the content and applications that are off-limits to employees and guests on the company network.
Web Security at Scale
Full integration in Allot Service Gateway and Allot NetEnforcer platforms drives efficiencies with on-premise, cloud, or hybrid deployment, which reduces TCO, and accelerates ROI. Through Allot's unified platform you gain granular visibility and valuable intelligence regarding Web usage and the security events on your network. Allot unified platforms are tightly integrated with operator policy, charging and steering functions, enabling end-to-end solutions that scale to support tens of millions of users with high-performance Security as a Service.