Allot NetEnforcer AC-3040
8 Gbps Bandwidth Management Device

Allot Products
Allot NetEnforcer AC-3040 / Monitoring Only

NetEnforcer AC-3040 Copper with No Support Bandwidth Monitoring Solution
#KAC-3040-8P-AC-COP
Call for lowest Price!

NetEnforcer AC-3040 Copper with Gold (1 year) Support Bandwidth Monitoring Solution
#KAC-3040-8P-AC-COP
Call for lowest Price!

NetEnforcer AC-3040 Copper with Platinum (3 year) Support Bandwidth Monitoring Solution
#KAC-3040-8P-AC-COP
Call for lowest Price!
Click here to jump to more pricing!
Overview:
Allot NetEnforcer AC-3000 is designed to manage broadband Internet traffic on multiple Ethernet links at speeds of up to 8 Gbps. Providing real-time analytics, policy enforcement, and traffic steering, this flexible device helps operators control bandwidth utilization and costs while ensuring Quality of Experience (QoE) for all network users.
Main Features:
Throughput of 1, 2, and 4 Gbps (full duplex) with real-time analytics and Quality of Service (QoS) management of up to 3.5 million concurrent IP flows
High port density per unit:

8 x 1GE ports for network connectivity
4 x 1GE ports for connectivity to external services, cascading and high-availability

IPv4/IPv6 dual stack subscriber support for flexible network configuration
Powered by Allot's Dynamic Actionable Recognition Technology (DART) engine, which provides granular visibility of subscriber, application, device (including tethering), and network topology traffic
DART's extensive signature library accurately identifies hundreds of Internet applications and protocols, including P2P, VoIP, streaming, gaming, instant messaging, web, and business applications
Automated, web-based update keeps the signature library up to date with the latest developments
Supports user-defined signatures based on HTTP attributes, as well as monitoring reports based on custom HTTP signatures
Real-time analytics and automatic alarms enable fast and accurate troubleshooting with the ability to trigger corrective actions
Works together with Allot Subscriber Management Platform (SMP) to provide real-time usage data for online and offline charging and subscriber policy management
Policy-based traffic steering to external network and subscriber services
Integrated URL filtering services block access to blacklisted and illegal websites, and allow subscribers to set up and manage their own safe browsing and anti-malware rules (See Allot WebSafe services)
Integrated threat protection system prevents DNS blacklisting, isolates infected botnet hosts for clean-up, and surgically mitigates DDoS attacks (see Allot ServiceProtector)
Managed by Allot NetXplorer centralized management system
Fail-safe performance supported by external hardware bypass
Deployment: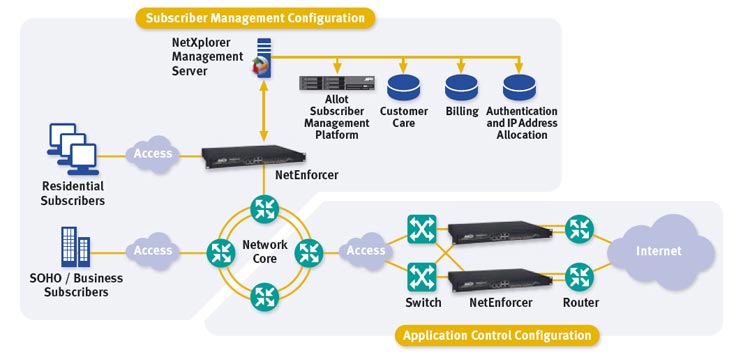 Specifications:
Allot NetEnforcer AC-3000 is available in a versatile AC-3040 model, serving a range of network configurations and needs.
Model Comparison
AC-3040
Capacity
Throughput
8 Gbps (4 Gbps, full duplex)
Number of Connections/Flows
1,750,000 / 3,500,000
Number of Subscribers
160,000
Lines/Pipes/Virtual Channels
512 / 40,000 / 80,000
Interfaces and Connections
Management Interface
10/100BASE-T
Network Interfaces (Internal / External)
8 x 1000BASE-SX/LX/ZX or 8 x 10/100/1000BASE-T (auto-negotiation)
Cascading/Service
4 x 10/100/1000BASE-T (reserved for future use)
Console Port
Serial, RJ-45 Connector
DART: Dynamic Application Recognition Technology (examples)
P2P
Including BitTorrent, eDonkey, Ares, Gnutella, Thunder, eMule, Vuze, Winny
VoIP and IM
Including Windows Live Messenger, SIP, Skype, Yahoo Messenger, GoogleTalk, Fring, WhatsApp, , STUN, ICQ, Viber, and QQ
Gaming
Including World of Warcraft, Final Fantasy, Guitar Hero, Second Life, QQ Games, Lineage, CounterStrike, Call of Duty, Apple Game Center
Web
Including HTTP, mobile, and social networking applications
Streaming
Including YouTube, RTMP, QQ live, PPStream, DailyMotion, HTTP streaming, HTTP audio, NetFlix, and Facebook streaming
File Transfer
Including FTP, HTTP file downloads, Apple App Store, Android Market
Networking Standards
Traffic Encapsulation
Including L2TP, MPLS, PPPoE, and Teredo
IPv6
IPv6 subscriber management available with Allot SMP
Product Options
QoS Enforcement Levels
1, 2, and 4 Gbps (full duplex)
Analytics (Monitoring and Reporting)
Real-time and Long-term
High Availability
Active redundancy (1:1, 1+1), bypass
Asymmetric Traffic Handling
Yes
Full Integration with Network & Subscriber Services
Allot Subscriber Management Platform (SMP)
For centralized creation, provisioning, and charging of per-subscriber services
Allot ServiceProtector
For DDoS/outbound spam detection and mitigation solutions
Allot Proactive Analytics
Providing collection and export of data and session records to Allot Proactive Analytics system
Allot WebSafe
For URL filtering solutions at the network level
Allot WebSafe Personal
For subscriber safe-browsing solutions (Parental Control; Anti-Malware)
Allot MediaSwift
For media caching and video acceleration solutions
Traffic Steering
For deployment of value-added services
Dimensions
Size / Weight
Standard 1U by 19" rack mount / 5.2 kg (11.5 lb)
Dimensions / Operating Temp
300mm x 440mm x 44mm (L x W x H) / 0°C to 50°C
Bypass Unit
External, 1U, 19" rack mount, 2.4 kg (5.3 lb)
Power
Input (AC)
100-240 VAC. 50/60Hz, 2A max
Input (DC)
-48V / -60V DC, 3.5A max
Power Supply Units
2 (Load Sharing)
Redundancy for PSUs
1 + 1
Power Consumption / Heat Dissipation
160W / 546 BTU/hour
Safety and Certifications
Safety

UL 60950-1:2007; EN 60950-1:2006 / A11:2009; CAN/CSA-C22.2 No. 60950-1-07

Emission

European Directives 2004/108/EC & LVD 73/23/ EEC, including
EN 55022: 2006, and EN 55024: 1998 + A1: 2001 + A2: 2003,
EN 300 386 V1.3.3:2005, and FCC CFR 47 Part 15B
Industry Canada ICES-003 Issue 4, and
VCCI Technical Requirements V-3/2001.04
Australia ACMA, AS/NZS CISPR22:2006
Documentation:
Pricing Subject to change without notice for reasons including, but not limited to, product discontinuation, product unavailability, manufacturer price changes and advertised price errors.